Howard & Howard's Executive Chef, Dwayne Howard, comes to you! Chef Dwayne's Intimate Dinners are the talk of Charlotte's discerning business professionals.
Chef Dwayne brings his talent to your kitchen, business or hotel suite (as long as it has certain kitchen facilities) for quiet evenings, small gatherings and romantic occasions..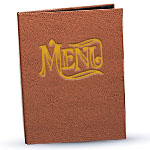 You can check out some of our sample Intimate Dinner menus here.
The actual menu for your chef prepared dinner will be crafted by Chef Dwayne himself in consultation with you to take into account personal preferences, allergies and special requests.
Intimate Dinners generally serve 2-8 people and are prepared on-site. You can watch Chef Dwayne as he prepares your meal or he can help your surprise someone!


Intimate Dinners are perfect for:
Anniversaries
Engagement proposals
Family of the Bride/Groom meetings
Corporate achievement awards
Client sales meetings
Small family/holiday gatherings
Milestone birthdays
Girls night out/in
Guys night out/in
Personal celebrations
Special occasions
Valentine's Day
Celebrities
Dignitaries
REQUEST A BOOKING