Planning with Grace & Poise SPRING BREAK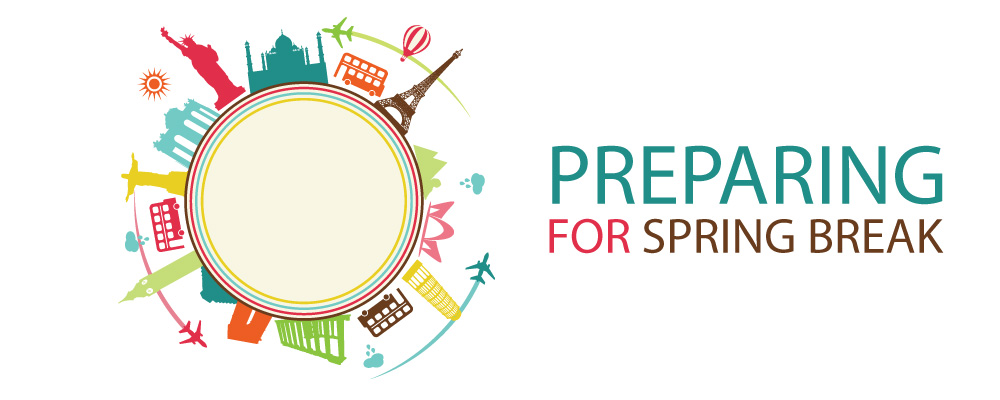 1
Plan Ahead.
Note that in order to prepare for a Spring Break vacation you need to allow yourself adequate time and resources to make your trip possible.

At least 5 months prior to your Spring Break you should begin to think about the location that you want to visit.
Compare the different methods of travel you will be using, as well as the different places you will stay at.
Now that you know where you are going, how you are going to get there and where you will be staying, you need to purchase tickets for the method of travel you choose as well as reserve a room at your choice of hotels/motels.

Doing these steps months ahead of time will not only be good for your wallet, but it will also allow you enough time to save for other expected expenses.
2
Do the Research
If you are traveling somewhere in which you have never been, it is always a good idea to make yourself familiar with that location before you arrive.

Examples: Culture, food, entertainment, weather and current events.
Depending on where you are traveling to you will need to know whether you will need a Passport, a Birth Certificate, or just a Photo ID. You can access this information at www.travel.state.gov

You will also need to know whether or not you will need to do a currency exchange.
3
Continue to budget for Expenses; this is where you can make or break your trip.
Don't lose sight of how important this is to your trip; this should be done consistently throughout the time leading up to your break.

Also, make sure you are taking care of budgeting in other expected expenses.
Know what all you think you would might want such as souvenirs, tattoos, and piercings so that you can add those to your budget. The more stuff you want the more money you need to be prepared to bring.
Beware of your cell phone bill when you come back. Long distance phone calls can double or even triple your normal bill.
Be prepared for a huge increase in gas prices. Budget to pay more somewhere you might go.
Make sure you know who all is going. Meet up with everyone that is going and make plans.

Warm Weather Examples: Tanning minutes, beach apparel,outdoor recreation, personal trainer.
Cold Weather Examples: Climate appropriate apparel, gear, recreation, medication.
4
Get Ready
Note, this should be done the month in which you are going to be on break.

Make sure you have all essential items necessary for your travels already taken care of.

Example: Passport, apparel, gear, luggage, currency.

It is also wise to know the rules of the airline in which you will be using to limit some of the hassle involved in flying.
Get everything together and enjoy your Spring Break!
Below is a site I love to share for helpful hints on how to pack for different trips.